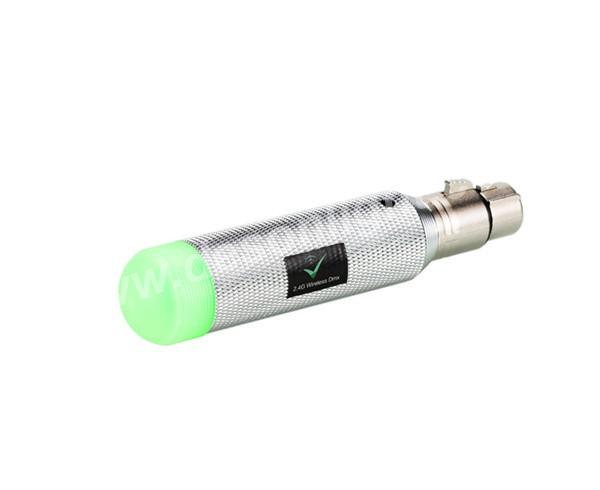 2.4g wireless dmx512 signal receiver led light reception transmitter powered receiver
2.4g wireless dmx512 led light reception transmitter powered signal receiver LC-W002B
This product is distinguished between male and female. The male plug (transmitter) is connected to the console, and the female plug (receiver) is connected to the lights. One transmitter can control 512 lights.
Product standard configuration:
Each transmitter and receiver is equipped with a power supply, and more than two are shipped. (Note: Please leave a message when taking pictures: How many transmitters and receivers are needed? What power supply? Power supply: American, European, and British. If there is no remark, our company will default to the U.S. standard)
The wireless transceiver is one-shot and multiple-receive. For example, one shot and three shots can be directly shot 4 pieces. At least 2 pieces are required, and one shot and one shot can be used.
The DMX512 wireless transceiver transmits the standard DMX512 console data in a 2.4G wireless mode, and can also transmit the online data between the lamp and the lamp. This product completely solves the wireless transmission of data between the lighting console and the lamp, and between the lamp and the lamp. Completely remove the twisted pair that has been relied on for a long time. In the process of data transmission, there is no time delay, and the data is real-time and reliable! This product adopts 2.4G global open ISM frequency band, free of license. Efficient GFSK modulation, 126 channel automatic frequency hopping communication design, strong anti-interference ability.
1. Standard DMX512 three-core interface
2. No transmission delay, no packet loss
3. Transceiver integration, automatic switching
4.126 frequency bands are automatically hopped, and non-interference frequency bands are automatically selected, and the signal is stable and reliable
5. 7 groups of ID codes can be set, and users can use 7 independent groups of wireless networks in one place without interfering with each other