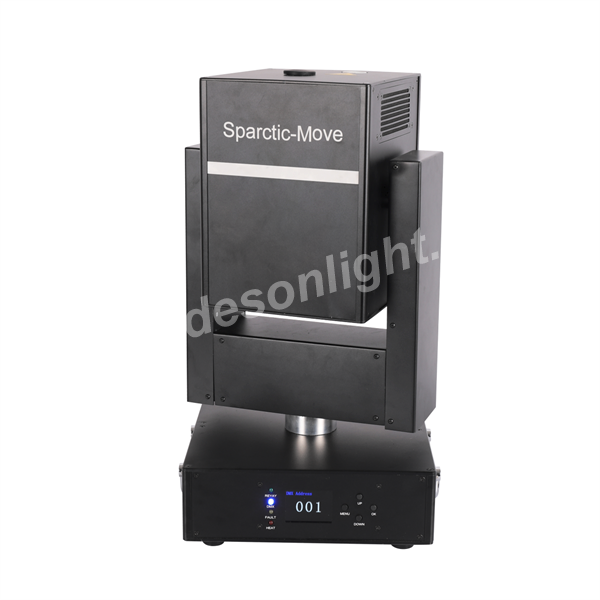 Spark Fountain Moving Head Sparkular Machine
360 angle 750w indoor/outdoor moving head fireworks machine for wedding stage effects cold spark fountain LD-420
Spray height: 1-5 meters (5 gears of the console)
Spray diameter: 22mm
Spray direction: rotation (X-axis 360°Y-axis ±30°)
Heating method: electromagnetic heating, preheating for about 3 minutes
Control method: DMX512
Power: 750W
Shell material: aluminum
Accessories: 3M power cord, signal line, multi-function remote control
Product size: 265*265*480mm
Product weight: 11.8kg
Single carton package: 560*350*350mm 15kg
Two air boxes: 840*380*700mm 48kg
Working Height:From 1 ~ 5 Meters
Working Temperature:From -10℃-50℃
Power: 750W 6.8A(110V version); 750W 3.4A(220V version)
Fuse: 110V/10A, 220V/6A
Control:DMX 512 System
Net Weight: 12kg
Dimensions:265*265*480mm
Max connections: 6 pieces
Consumables: Compound Titanium Metal Powder
Why Choosing Our Cold Spark?
1. Very short 3 minutes pre-heat time
2. It can continue to work until all consumables are consumed. Instead of stopping automatically every 20 seconds
3.Very small size and weight can save courier fees.
4.Very rich spark effect and can 1-5m height adjustable
5.Very safe metal case.
6.Built-in effects of multiple machines in series and remote control are very convenient to who do not use the console.
7. Best price!