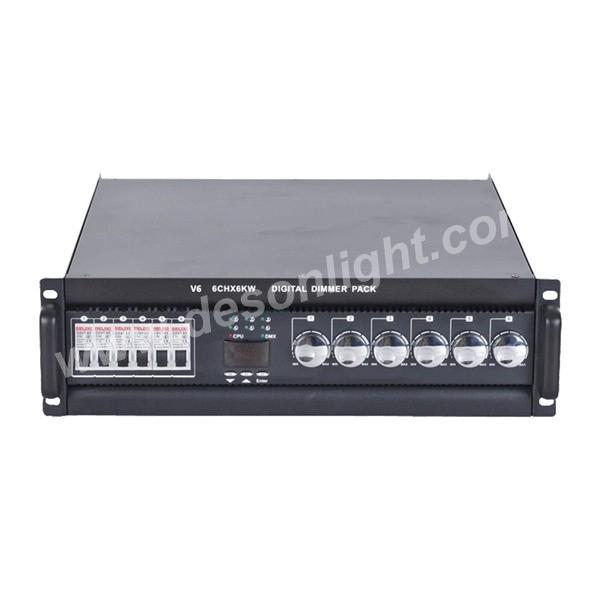 DMX512 6x6kw Digital Dimmer Pack
Stage Light DMX512 Control 6kw Digital Dimmer Pack

Input: AC380±10% ,50Hz±10%, Three-phase five wire system, three phase (ABC) + zero line (N)+
ground (PE)
Signal interface: Digital DMX-512 (1990)
Output: 6 channel, 6kw each channel (6CH X 6KW)
Output connection: 3*10A bakelite socket / 40A bakelite socket / terminal type (Option)
Dimension: L515×W485×H133
Weight: 18kg
Features:
1. The core device of the silicon box is made of imported materials, and the performance is stable and
reliable.
2. Good heat sink and forced air cooling combined with intelligent environmental control system.
3. Efficient anti-jamming choke has strong anti-interference ability, low noise and current rise time of
220us-450us.
4. Start loop setting, preheat value setting.
5. The dimming curve can be set to linear or switch state. The switch value is 50%. When the
brightness value input in the switch state is greater than or equal to 50%, the output circuit is full output,
otherwise there is no output.