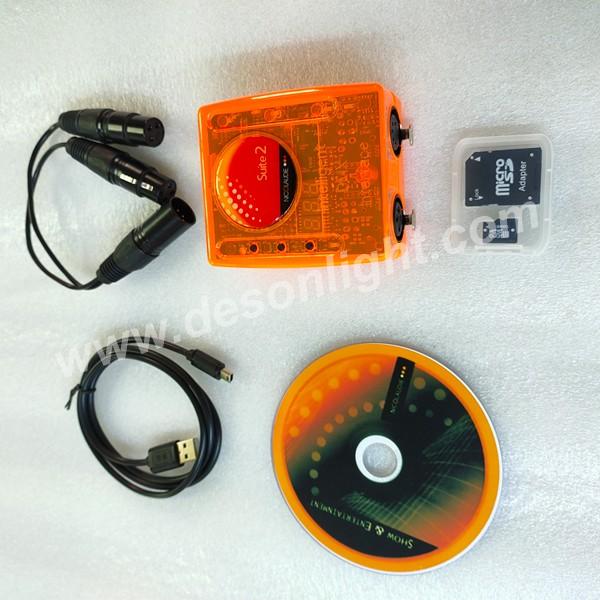 DMX sunlite suite 2 high quality USB to DMX 512 Controller Sunlite 2 FC+
DMX sunlite suite 2 high quality USB to DMX 512 Controller Sunlite 2 FC+

LC-Su

ite2
· stand-alone mode operates independent of PC
· no extra PSU needed
· 512 DMX output channels
· internal user accessible 8Bit parallel port
· for EVERY computer supporting a standard USB port
· lightweight plastic housing
· Output: 3-pin XLR
· supports windows XP/2000/VIST operating system, also win7 32 bit
Sunlite DMX controler specification:
1.USB-DMX signal decoding,support for multiple USB-DMX decoder,the output stability.
2.With a standard 4*DMX512 outputs(2048 channels),using DC/DC power supply isolation,and optical isolation.
3.Supports the PC work and work offline mode selection,single chip decoder,external random access memory.
4.Accept DM*512 lighting console control,through the interface into the 3D software control,and computer 3D effects synchronized with the on-site in order to achieve synchronization of lights console video software.
5.PC 3D stage set up:computer 3D lighting effects synchronized with the on-site real time results .
6.Synchronize audio and lighting effects make music show in the time scale bar on the drag and drop audio and video,mobile,lighting effects extend to arrange start and end time.
7.Equipped with a memory function of memory,can be "independent kingdoms"mode,can work independently from the computer.
8.Create your own lighting fixtures to the existing information or data changes,all the lighting effects are included(color,pattern,pattern rotation,prism,etc.)
9.Built with the visual effects and program icons,mouse,click-to-use and easy to use.
10.3D lighting effects for AVI export.
Sunlite DMX controller features:
SUNLITE SUITE First Class
SUNLITE SUITE First Class - SL2048FC
(Pack Part Number SL2048FC)
Sunlite Suite, the lighting control software that outperforms most consoles/desks available on the market!
FEATURES:
A) 512 DMX-IN channels
B) 512 DMX-OUT channels
C) 4 DMX-Ethernet universes for 2048 more channels
Note1:
1) The DMX-Ethernet outputs use the Ethernet connection of the computer
2) Unlimited2) Unlimited = limited by the Ethernet protocol and the power of the computer