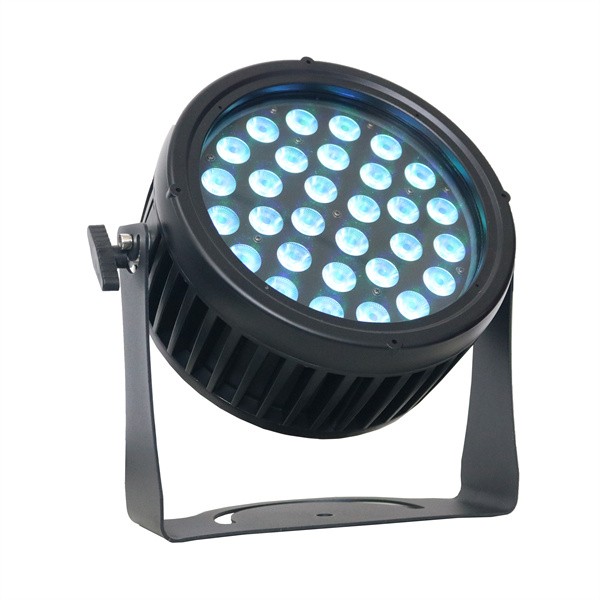 IP65 30x10w RGBW 4 in 1 LED Waterproof PAR
IP65 30x10w RGBW 4 in 1 LED Waterproof PAR Light LP-287
Input voltage: AC100-240V, 50/60Hz
Rated power: 300W
Light source: 30*10W high power RGBW 4in1 LED
DMX Channel: 4/6/8 channels
Color mixing: RGBW color mixing, colorful infinite change
Dimming: 4 kinds of dimming curves
Strobe: 0-30Hz
Lens angle: 25°
Control: international standard DMX512
Display: OLED function menu with 4 touch buttons
Heat dissipation: intelligent temperature control, active
Maximum ambient temperature 40°C
Minimum ambient temperature -20°C
Maximum case temperature 65°C
Power connection: IP65 power cord input/output or SEETRONIC IP65 electrical waterproof connector input/output
Data connection: IP65 DMX signal cord input/output or SEETRONIC IP65 signal connector input/output
Lamp life: 60,000-100,000 hours
Waterproof rating: IP65
Net weight: 7.6kg
Features:
4 dimming curves, high standard linear dimming
Beautiful die-cast aluminum housing, IP65 protection level, suitable for outdoor performances
Silent operation, no flicker output
Unique structure design, excellent natural heat dissipation effect
Double hanger design, convenient for air suspension and ground placement
DMX control, RDM intelligent control.
Features and advantages: Adopt waterproof sealing design, high color purity, special optical design, more uniform light effect, waterproof grade IP65. Suitable for all kinds of indoor and outdoor performances, multi-function hall, large banquet for wash effect.