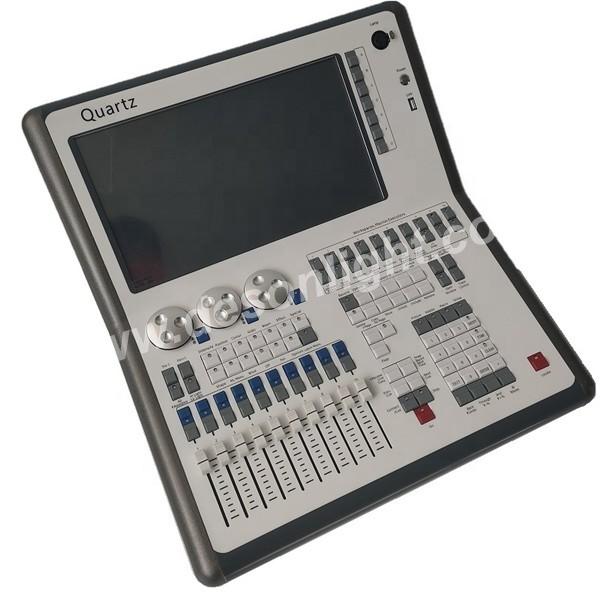 Quartz DMX Lighting Console
Quartz Tiger Touch DMX Lighting Console LC-Quartz
Use 11.1/11.0/10.1/10.0 software version, no time limit.
Built-in 8 languages, support Chinese menu display.
Open the mold to customize the ergonomic handrail, beautiful appearance, simple atmosphere.
Built-in a 14.1 tilt widescreen touch screen, high resolution and high brightness.
i5 CPU, 4G DDR3 memory, 120G solid state drive.
10 program page flipping levers, 20 macro function buttons.
3 high-precision imported encoders.
Built-in Visualiser 3D visualization software.
More than 1000 virtual replays.
Powerful CMY palette function, support graffiti style handwriting naming function.
Support arbitrary adjustment of window size.
Built-in more than 1000 light libraries, built-in light library editing software.
The main components are all imported to better ensure the stability of the console.
The power supply adopts Taiwan Mingwei switching power supply, 100-120V, 200-240V 50/60Hz.
Built-in UPS uninterruptible power supply, 0 delay automatic switching.
Support connecting to a computer for offline programming, etc.
The console comes with 4 physical DMX output ports and 2048 channels.
1 MIDI interface, support MIDI time code.
1 work light interface, 3 USB interfaces.
1 VGA external screen interface, which can be connected to an external touch screen.
The console comes with one-key restore software.
[Size] Packing size: 60*55*34 cm, bare metal size: 51*48*21cm
[Weight] Net weight: 11kg, gross weight: 25kg