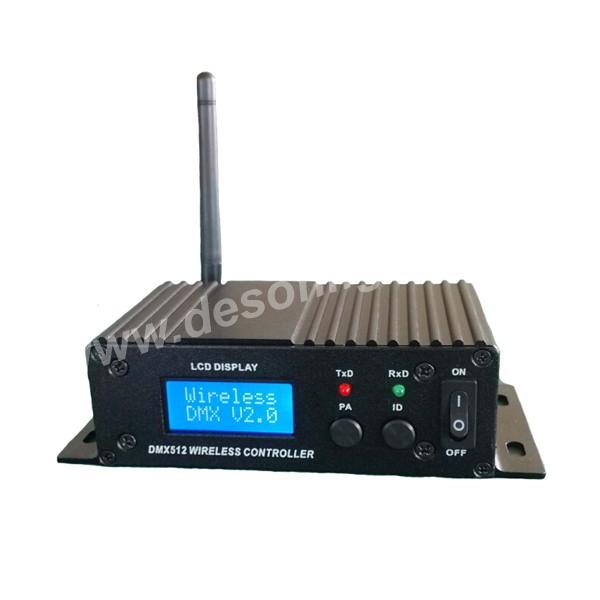 Wireless display mini dmx 512 transmitter
Wireless display mini dmx 512 transmitter LC-8040
1. 2.4 The wireless DMX512 transceiver module transmits standard DMX512 data wirelessly, as well as the online data between lamps and lanterns.
2. This product completely solves the wireless transmission of data between the lighting console and the lamp, and completely removes the twisted pair that has been relied on for a long time.
3. In the process of data transmission, there is no time delay, and the data is real-time and reliable!
4. This product uses 2.4G global open ISM frequency band, free of license.
5. Efficient GFSK modulation, ISM, 126 channel automatic frequency hopping communication design, strong anti-interference ability. Guarantee the reliability of communication
6. 2X8-digit LCD displays working status and parameters, and 4-level output power is adjustable.
7. Working frequency band: 2.4G 16 groups of ID codes can be set, users can use independent 16 groups of wireless networks in one place without interfering with each other.
8. Communication distance: 500M (line of sight), maximum transmit power: 20dBm, receiving sensitivity: -94dBm
9. Input voltage: 9-12VDC 300MA MIN.
10. DMX signal interface: 3PIN male and female plug,
11. Suitable fields: stage lighting, large-scale theatrical performances, stadium lighting, temporary stage performances, urban lighting systems, TV stations, conference centers, professional theaters, theme parks, dance halls, bars and small-scale theatrical performances.
12. Dimensions: 75X147X43 mm
Weight: 360g
All the 5-pin XLR 5-pin sequence of our company is
①ground wire②-negative pole③+positive pole④⑤empty.
Please check carefully when taking 5 stitches! For example, the 5-pin sequence on the lamp conflicts with the 5-pin wireless sequence of our company